The build of our microscope was kept very much "Valaisan": we've developed it at Idiap (based on the OpenSpim project) and the parts were machined in Sion, by the Base Aérienne.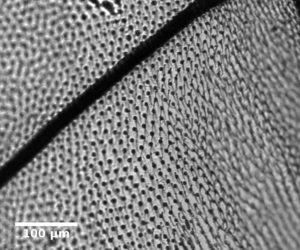 The first biological sample we've imaged was the wing of a fly.   This was a nice sample, but we were still looking for live samples with fluorescence markers.
We got in touch with D. Schorderet's lab, at Institut de Recherche en Ophtalmologie (IRO) in Sion, as they are interested in SPIM imaging capabilities to support their research towards understanding vision problems. Linda Bapst was kind enough to provide us with wild-type 30hpf as well as GFP-stained zebrafishes, in order to do a test run of our microscope.
Here is a video of 3D data containing both fluorescence signal – in green – and transmission – blueish – of the head of a zebrafish. The eyes are nicely visible, notably the the corneas that are in green (GFP-marked) with the optical nerve also in green.